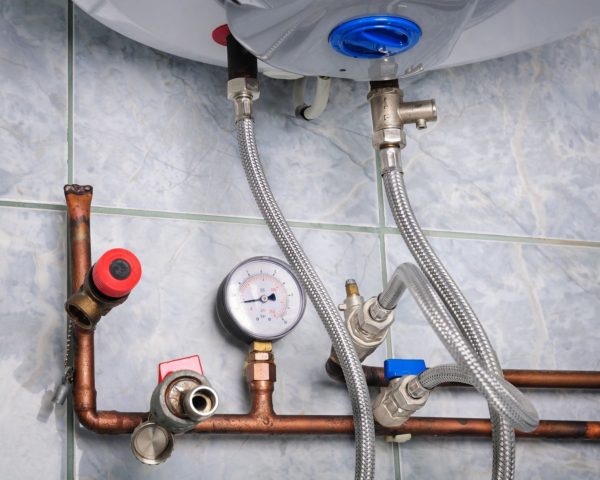 As an experienced company, we always emphasize that boilers, furnaces, and other heating system components should be cleaned and maintained by a qualified and licensed HVAC professional to ensure that you are saving as much as possible on energy costs. Likewise, there may be considerable differences in various home units. Depending on whether your home is equipped with a gas-fired, oil-fired, wood-burning, or other boiler fuel is just one of the differences that will likely entail specific cleaning and maintenance steps. That said, there are a few basic steps most homeowners can take to tune-up their home heating system and help reduce their own energy costs during the cold Winter months!
1. Replace The Oil Filter
Oil-fired units, which are one of the most common types of boilers — especially in older homes, will likely require annual replacement of the oil filter to run optimally and help lower your annual energy costs. First, turn off the boiler and the oil supply with the oil shut-off valve. Locate the oil filter and remove the housing cover. Remove the old filter and install a new one — ensuring that your replacement filter is a match for your unit make/model. This maintenance task will be much easier and safer with an owner's manual. If you cannot find your owner's manual try searching for a PDF version online using your unit make/model number, or call the Robillard team!
2. Utilize Humidifiers & Fans
A humidifier will help your room feel more comfortable without turning up the thermostat by keeping the air circulating in a room moist. Moist air will absorb and retain heat much better than dry air. In addition, reverse the direction of your ceiling fan during the winter months! Though it may sound odd, having fan blades move in a clockwise direction will push hot air down from the ceiling. Also note that exhaust fans in the kitchen and bathrooms pull hot air from the room, so be sure to use them in very short intervals during the winter months.
3. Check Temperature & Pressure Readings
Most boiler units have a pressure gauge that should stay between 12-15 psi. The boiler pressure should stay within this PSI range to ensure that the unit is safely maintaining a consistent temperature. This pressure is controlled by the expansion tank and pressure relief valve. Likewise, depending on the boiler system it may likely have a set of temperature gauges and controls that set the room thermostat, boiler water temperature, circulating pump temperature, and/or temperature safety limits. Again, check the owner's manual for proper readings, control settings, and troubleshooting signs. As always, if you are not comfortable with performing this call the team at Robillard and we will ensure that everything is fully functional and ready for Winter!
4. Reduce Cold Drafts
Hundreds of dollars in Winter energy costs can be attributed to heat escaping from poorly insulated homes. Take some time on the weekend to assess any drafts at doorways and windows. You can take simple steps to insulate windows and doors with inexpensive insulation solutions such as doorway draft blockers and plastic membrane window covers to create an insulating air barrier,
both of which are available at nearly any hardware or even homegoods store. Also try to keep your curtains shut at night to keep in heat, but open them wide on sunny days to take advantage of solar energy. These tricks will help significantly lower your energy costs during long Winter months!
5. Clean & Change Ventilation Filters
Cleaning and replacing furnace and ventilation system filters will increase efficiency and reduce your energy costs. Give some careful attention to air filters and heating vents throughout your home. Clean out the dust and make sure they are not blocked to increase air flow to prepare them for potentially heavy use during the Winter. Of course if your heating system has gone a significant period, around 6 months or more, since its last inspection and tune-up we highly recommend having a complete and thorough system inspection!
BONUS. Take Advantage Of 24/7 Emergency Service!
Even if you've taken all the steps above to help ensure your heating system operates smoothly, there is always a chance for catastrophe to occur. If you are ever experiencing a critical heating system failure do not hesitate to call the Robillard team 24/7 for emergency servicing and repairs. We're always here when you're in need of emergency heating system repairs. If your heat shuts off due to mechanical failure in the dead of Winter, you can rest assured that our experienced team will get system back up and running as soon as possible!
Tips & Information sourced from:
Fall and Winter Energy-Saving Tips. Retrieved from: https://www.energy.gov/energysaver/fall-and-winter-energy-saving-tips
HomeAdvisor. Boiler Tune-up. Retrieved from: https://www.homeadvisor.com/r/boiler-maintenance-tips/
ABOUT ROBILLARD HVAC
Owner and operator Scott Robillard has worked in the heating, ventilation and air conditioning industry for over 15 years. After several years of working for larger HVAC companies, Scott utilized not only his professional knowledge and experience, but his intuition of the weak points prevalent in the industry to start his own company – Robillard HVAC. While we specialize in oil burner servicing and ductless air conditioning, the professionals at Robillard HVAC are capable of working on most makes and models of heating and cooling systems.
 For more information, contact:
Robillard HVAC
Servicing North Central MA
& South Central NH
BUSINESS HOURS
7:00AM – 7:00PM
AVAILABLE 24/7 FOR EMERGENCIES
scott@robillardhvac.com
View Our Service Areas