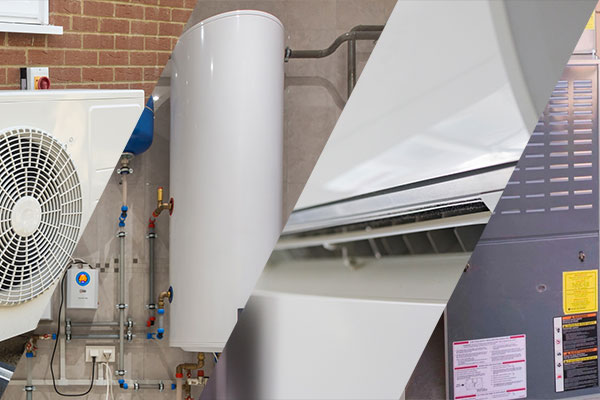 With temperatures nearing zero and showing no signs of stopping, you have likely become very familiar with your heating system lately. Harsh snow storms, winds, and freezing temperatures have made your home a permanent destination this season. If you have found that your heating system is struggling to keep up with demand, you might be looking into installing a new system. Luckily, Robillard HVAC has a wide variety of choices – meaning you can find the perfect option to suit your home and preferences. Check out some of our offerings, and discover what makes each stand out.
Warm Air Furnaces
Furnaces can be found in the majority of households across the country, and recent upgrades and standards have only made them more viable. These systems work by combining fuel with air and subsequently burning it. Heat is eventually transferred to air, which is pushed through your ductwork to provide heat to the rest of your home. This system is operated by a thermostat which is responsible for turning the system on and off depending on the house's temperature and the user settings. A warm air furnace is an excellent choice for your new heating system as it can increase your energy efficiency and keep costs low.
Hot Water & Steam Boilers
Choosing a boiler as your new heating system can be a great fit, as they can quickly and efficiently disperse heat throughout your home. Boilers function by distributing hot water through radiators and similar devices throughout your entire house. The cold water is later reheated by the boiler, and the cycle continues. As long as you have access to power, your boiler will continue to operate and keep you warm. Boilers can lower your utility bill and offer a lower power draw when compared to other choices, so it is certainly a good option for many current homeowners.
Heat Pumps
Heat pumps are best understood as two-way air conditioners, absorbing the heat from outdoors and transferring it indoors. Heat pumps deliver more energy than they use, meaning you will likely see your energy bill drop while your home is even warmer than before. Heat pumps can also be utilized during the summer and warmer months, where they work in reverse – absorbing cold air from the outdoors and pumping it into your space. If you are looking for a solution that will keep you comfortable throughout the year, check out our heat pump offerings.
Ductless Mini Split Systems
Ductless mini split systems are the top choice for many homeowners looking to replace their outdated or malfunctioning heating system, and it is easy to understand why. These systems distribute energy through refrigerant lines, as opposed to water or air running through ducts/radiators. They are extremely cost effective, and installation is a breeze – no need for extensive ductwork or construction. With ductless mini splits, you will be saving money throughout the year while keeping your home at the perfect temperature. 
Whichever option you choose, Robillard HVAC is here to professionally install your new heating system. Get in contact today to learn more about our options, installation methods, and much more. Get started on making your home warmer.
Sources Used For Article: Smarterhouse
ROBILLARD HVAC
If you're looking for spring HVAC maintenance in North Central Massachusetts or South Central New Hampshire, Robillard HVAC is the call to make. Whether you need some basic care, or an entirely new system, we have you covered. Contact Robillard HVAC today and see how we can make your home cooler and safer.
 For more information contact:
Robillard HVAC
Servicing North Central MA
& South Central NH
BUSINESS HOURS
7:00AM – 5:00PM
AVAILABLE 24/7 FOR EMERGENCIES
scott@robillardhvac.com
View Our Service Areas